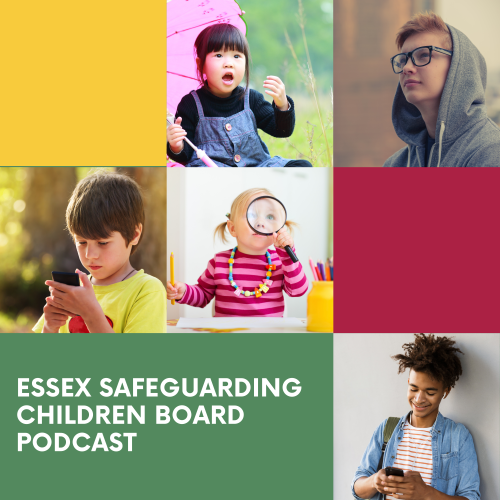 A fantastic new podcast from Brook Essex answering all your questions about how to have healthy relationships in a digital world, the dangers that technology can present with relationships and what to do if you're asked to send a nude. This is aimed at young people but parents/carers and professionals take a listen too.
Transcript follows below:
Jo:  Hi everyone and welcome to our Podcast for young people in Essex. This month we are focusing on online safety and our experienced specialists will be answering a few questions based on their experience working with young people in Essex. My name is Jo and I am the senior education and wellbeing coordinator for Brook in Essex, Thurrock and Southend. Joining me today, we have Rey, our education and wellbeing coordinator in Essex-
Rey:  Hi everyone
Jo:  We have Katie, a health promotion specialist in Southend-
Katie:  Hi
Jo:  And Laura, a health promotion coordinator in Southend.
Laura:  Hi
Jo:  Collectively, we have over 10 years experience working in sexual health that we are going to use to answer some of the common questions we are asked when working in Essex. So let's start with our first question- 'I don't feel comfortable when I get asked for nudes but I also think it is expected for people my age to send them- is it normal to have to send nudes when talking to someone online?' Let's go to Rey first- Rey what would your response be to this young person?
Rey:  Well I think we first have to think about the law. If you are under 18 it is against the law to take or send nudes- even if the photo is of yourself! We now call this youth produced sexual imagery and the law is there to protect young people from harm. So it's really important that young people are aware of this law to help keep them safe. The age of consent is 16 so many young people think that it's ok to send nudes if you are 16 or over, but the law says that if you are under 18 you aren't legally an adult yet.
Laura:  That's a great point, we hear from a lot of young people that they didn't know it was against the law if they are 17 for example. The other thing to remember is that if you took the photo when you were under 18 but do not send it until you are over 18, it is still against the law- the photo freezes your age in time.
Katie:  Absolutely. It's also super important that we think about the risks. Sure, you might trust the person you are sending them to now but will you always trust them? And even if you do, devices get lost, accounts get hacked and images get shared without permission- once you send a photo you have no control over what happens to it. Sending nudes can be more risky than people realise, when we are online we tend to do and say things we wouldn't in real life.
Rey:  That is true, being online or talking to someone through messages can feel easier and we say things we might not otherwise. I think that there is no 'normal' when it comes to relationships. What is healthy for one relationship might not be for another. Of course, we know there are things that are unhealthy no matter what. This includes being pressured to send nudes. If you feel pressured or you think someone has shared images of you please reach out to a trusted adult. Schools will have a pastoral or safeguarding lead that you can speak to who will be able to help you.
Jo:  Thanks for that everyone, really great responses there. Let's move on to the next question- 'I have been talking to someone I met on a gaming site. We talk every day and now they want to meet. Something doesn't feel right though- how can I know they are who they say they are?'
Katie:  The first thing I would say is trust your gut- if something doesn't feel right we should trust that feeling. It can be really dangerous meeting people in real life that we have met online. How do we know they are who they say they are? Unfortunately, not everyone is online with the best intentions and it's hard to tell what their intentions are.
Laura:  Absolutely. I would always recommend that if you meet someone online in one platform, that's where you keep all interactions. So, if you meet someone in an online game, that's the only place you talk to them- no moving to snapchat or whatsapp or even the real world, keep yourself as safe as possible.
Rey:  And don't share personal information- no one online needs to know your full name, phone number, where you live or what school or college you go to. Keep usernames and online handles completely separate from your real life. My answer to this question is that if you are under 18, please do not meet anyone in real life that you have met online. Now I know that it sounds like we are telling you what to do but in our experience, it is just too risky. If you are over 18 and want to make that decision, tell people where you are going, who you are meeting and their contact details. Take a group of friends and meet in a public place. Be clear about how you are getting home as well- don't rely on someone you don't really know to get you home.
Jo:  Thanks everyone, it is so important to talk about how to keep yourself safe, especially when we meet people online. Ok, I have the last question for you all- 'What are some red flags when talking to someone online, what should young people look out for?'
Katie:  Oh, that's a good question. I think the first thing is if they ask for something, especially something you don't want to or are unable to give. So, if for example they are asking for nudes and you say no but they keep asking, or call you names, end the conversation. The reserve is also true though- if they send you  obscene, pornographic, violent or abusive images, end the conversation and report it to the site and the police- a trusted adult will be able to help you through this.
Rey:  It's not just nudes either. We have supported people that have sent nudes to someone online and that person has then tried to black mail them for money. Threatening to share the photo's if they don't pay up. This is also why we recommend that you don't share images but if you find yourself in this situation remember it is not your fault and to reach out for help. Don't go through this alone, speak out and get support.
Laura:  I would just say, If you feel sure you're talking to someone who isn't who they say they are, or if they're threatening, offensive or insulting, report it to the site or app you're using. Don't feel embarrassed or like you're wasting their time. You're helping them keep their site safe and before you brush it off as being a bad experience, just think about the next person they get chatting to. Online sites and apps usually take their member's safety seriously and will have in-built features to block or report. If you are unsure about how to do this, reach out to them through their support services to get some help and advice.
Jo:  Some great advice there, thank you all for coming along today to talk to us about online safety. It has been great listening to your expert advice and I am sure it will help young people listening to this podcast. And to those listening in, thank you all for joining us. Remember to check out our website at brook.org.uk for more advice, information and real life stories.